In-house seminars for rail professionals. Customisable content - 1 to 5 days.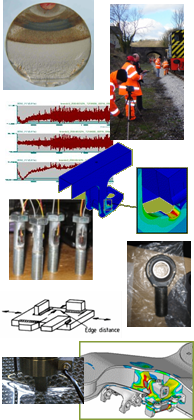 COURSE LEADER: John Doyle BSc(Eng)., C.Eng., MIMechE., ACGI was born in 1965 and is a graduate of London's Imperial College with almost 30 years of experience in solving engineering problems. After rising to the position of Chief Mechanical Engineer with Bombardier Transportation he started his own engineering consultancy in 1995 called MoreVision. It specialises in engineering analysis of railway vehicles and mechanical equipment. His website delivers solutions to engineering problems and welcomes over 20,000 unique visitors per month.
 WHY ENROL ON THIS COURSE? A structural integrity issue on a railway vehicle impinges on train availably and train safety but in an extreme case it can ground a whole fleet or worse cause a rail catastrophe. This course provides an ideal opportunity to reconnect with engineering principles and root causes of structural problems. With an emphasis on service provision and maintenance, engineering theory is set in the context of real life case studies to reveal management strategies for successful outcomes.
Understand material failures.
Finding clues in failure surfaces.
Dealing with cracks in a vehicle.
Develop an eye for bad welds.
Ensure underframe equipment stays attached.
How to stop bolts breaking or coming loose.
Understand dynamic loads, vibration and shake tables.
Avoid failure modes of common components.
Using lightweight honeycomb materials.
Cover carbody and running gear.
Include steel and aluminium design.
Avoid compromising vehicle crashworthiness.
Introducing structural modifications.
How to repair damaged vehicles.
Leading forensic investigations.
Understanding finite element analysis.
Life extension of railway vehicles.
When to use on-track test methods.
Assessing and monitoring technical risk.
Risk mitigation techniques.
Engineer's Workshop
Discuss your own problems with the course leader.
WHO SHOULD ATTEND? Maintenance engineers, fleet managers and train designers. Previously this course delivered a 30% - 40% increase in confidence in tackling structural issues across all levels of ability.
REGISTER YOUR INTEREST: Contact John Doyle.


Email


US +1 617 5008224


EU +44 113 8152220


Toll Free: Skype
DOWNLOAD: Download the course brochure and syllabus here.
FURTHER DETAILS: Our training services.