Two day in-house fatigue seminars for engineering professionals.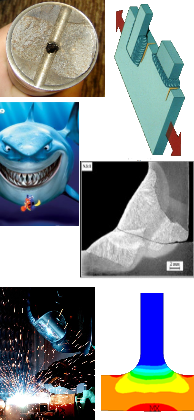 COURSE LEADER: John Doyle BSc(Eng)., C.Eng., MIMechE., ACGI was born in 1965 and is a graduate of London's Imperial College with almost 30 years of experience in solving engineering problems. After rising to the position of Chief Mechanical Engineer with Bombardier Transportation he started his own engineering consultancy in 1995 called MoreVision. It specialises in engineering analysis of railway vehicles and mechanical equipment. His website delivers solutions to engineering problems and welcomes over 20,000 unique visitors per month.
 WHY ENROL ON THIS COURSE? Fatigue occurs when small cracks grow under the action of repetitive loads progressively weakening a part until it suddenly fractures without warning. Welding is one of the most common joining methods for structural materials but they introduce additional complexities to the fatigue process. Thus weld fatigue is the most significant factor affecting the structural design of machines such as construction equipment, railway vehicles, mining and other mechanical equipment. Engineering theory is set in the context of real life case studies to reveal strategies to overcome fatigue problems and develop your eye for fatigue prone details. Fatigue has been the root cause of many engineering disasters so register your interest in the course and make sure it does not happen on your projects.
Weld Static Strength
Start with simplest weld types
Understand basic calculation principles
Understand allowable stress
Code independent
Use traditional hand calculation methods
Find good tools to solve general weld problems
Tools for weld sizing
Tools to determine weld ultimate strength

Classic Fatigue Problems
Reading fracture surfaces
Understanding residual stress
Performing stress life fatigue calculations
Fracture mechanics calculations

Fatigue of Welded Structures
Understand the welding process
Understand the difference a weld makes to fatigue
Applying fatigue classifications
Performing SN calculations
Metallurgical assessment of a weld fatigue problem
Compare American and European methods for fatigue assessment
How to enhance fatigue performance

Case Studies
Vibration driven fatigue problem
Theme park fatigue
Incorporating fatigue with finite element analysis
Fracture mechanics and life extension
Dynamic effects on fatigue problem

Fatigue Workshop (Optional Extra Day)
WHO SHOULD ATTEND? Design engineers and engineers managing warranty or service issues.
REGISTER YOUR INTEREST: Contact John Doyle.


Email


US +1 617 5008224


EU +44 113 8152220


Toll Free: Skype
DOWNLOAD:  Download the course brochure and syllabus here.
FEEDBACK FROM PREVIOUS COURSE
FURTHER DETAILS: Our training services.