On many occasions clients have asked MoreVision to bring their specific  technical expertise to help supervise and support mission critical projects. By working together from the outset and by being specific about requirements we help our clients achieve successful outcomes in managing complex engineering issues.

Given our experience in structural calculations for the railway industry the class 222 project team asked MoreVision to head up the structural design validation process and support them through the Vehicle Acceptance Body design scrutiny process. The whole project involved the co-ordination of project engineers and subcontractor organisations to produce 75 document packages covering the vehicle interior and externally mounted equipment. Initially a guidance document was written and sample documents circulated so that subcontractor has a clear idea of what was required. As documents were supplied an audit process was established which raised over 500 scrutiny comments. Each comment was closed out individually and the document package was submitted to the Vehicle Acceptance Body. The activity was controlled using a database system and reported to the project director on a month by month basis until all documents had been accepted. Typically we would spend one day every fortnight at the clients premises in Belgium to report progress and discuss issues with each system engineer.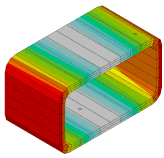 It is always late on Friday afternoons when something fails, or something is manufactured incorrectly, or some accident happens. We can't tell you why it is always Friday afternoon but at MoreVision we are well practised at working into the weekend to ensure that a situation is made safe in the short term and if necessary devise plans to ensure that a long term solution. Some cracks were found in the corner of a cross tube which the materials lab had said were formed during the manufacturing process. The cross tubes had been used in a whole fleet of bodyshells and it was necessary to demonstrate to the client that crack growth could not take place when the bodyshells were in service. MoreVision determined the stress levels in the cross tube from the global bodyshell finite element model, then used sub-modelling techniques to determine a detailed stress analysis of the cross tubes. MoreVision's Fracture Mechanics Software was then used to show that there was no danger of the cracks growing in the structure.