What is resonance?

BEFORE DYNAMIC ANALYSIS TECHNIQUES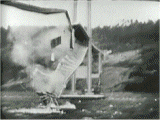 On November 7, 1940, at approximately 11:00 AM, the first Tacoma Narrows suspension bridge collapsed due to wind-induced vibrations. Situated on the Tacoma Narrows, near the city of Tacoma, Washington, the bridge had only been open for traffic a few months. Within a short space of time the bridge collapsed.
HOW CAN A DYNAMIC ANALYSIS HELP ME?


Dynamic analysis is typically used to design out potential noise and vibration problems, or to evaluate the impact of transient loads. Modal analysis is used to identify natural frequencies, and enables the designer to avoid excitation and eliminate excessive vibration. Animations are easily produced to provide valuable insight into how the structure will behave when excited. Harmonic response analysis is used to determine the steady-state response of a linear structure to sinusoidal loads, and enables the evaluation of resistance to sustained forced vibration. Transient dynamic analysis is used to determine the response to general time-dependent loads. Typical applications include seismic or explosive events. Rotordynamic analysis is important when designing or troubleshooting rotating systems. By modelling the rotating geometry and its dynamic characteristics, such as stiffness and damping, the critical speeds can be predicted. Design adjustments can then be made to avoid continuous running at those speeds.