| | | | |
| --- | --- | --- | --- |
| Fatigue assessment of rollercoasters.  | Bruce's articulated head at Disneyland Paris. | Pinned articulated joint in wagon at Disneyland Paris. | Pinned joints on the London Eye dummy pods. |
Building and managing a theme park is clearly focused on visitor safety. MoreVision are often called to assess the strength, fatigue strength and safety of new attractions.
The Hong Kong Disneyland Railroad Vehicles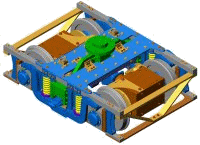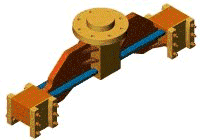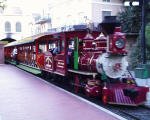 The Hong Kong Disneyland Railroad vehicles carry guests between attractions on the resort and requires extensive analysis to satisfy the local regulatory bodies. The train comprises a loco, tender vehicle and coaches. Each vehicle has its own bogie and wheelsets and all items of equipment required assessment. Finite element analysis and calculations considered the static strength and the fatigue strength of the railroad vehicles. Analysis covered many combinations of vertical loads (tare to crush), longitudinal loads (braking, vehicle recovery) and transverse loads (curving, wind and slope). MoreVision worked closely with the vehicle manufacturers transferring data via the internet. MoreVision gave further support by assisting in the client design scrutiny process.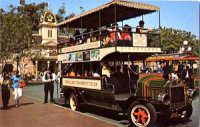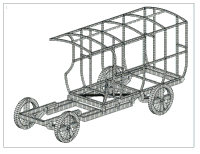 Static strength and fatigue strength analysis was required for the Main Street Vintage Vehicles in Disneyland's new Hong Kong Resort. These included a paddy wagon and a double deck omnibus vehicle.

MoreVision have done a great deal of railway bodyshell analysis but analysis for the Theme Park industry is actually more like crane design than railway design. MoreVision prepared calculations for TUV approval using German DIN standards. MoreVision were also required to take the calculations through the client scrutiny process.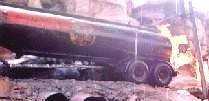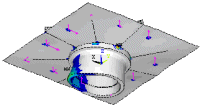 The picture above shows Disneyland's 'Catastrophe Canyon' ride. A burning petroleum tanker about to falls onto a crowd of onlookers... a job for Superman? No MoreVision! We undertook a loading analysis and a stress and fatigue assessment of the wagon kingpin joint to ensure spectator safety.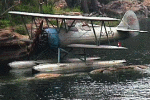 Remember when Indiana Jones escaped a band of marauding natives by swimming to his bi-plane floating of a river.  Disney wanted to recreate the feel of the film and bought a identical plane for use in their  'Indiana Jones and the Eye of the Temple' attraction. These planes have a take off speed of 30 miles per hour so the problem given to MoreVision was to stop the plane from taking off in strong winds. We undertook some aerodynamics calculations and designed an anchorage system for the plane.
Pinned hold down connection for Indiana Jones's bi-plane at Tokyo DisneySea.
A market stall cart conceals a giant airbag to break the fall of a stunt man. It was particularly difficult to design a light weight but rigid frame.
Consultancy Projects...

Pinned joints in Volvo loader arm.


Pinned joints in Claas Tele-handler.


Bruce's articulated head at Disneyland Paris.


Pinned articulated joint in wagon at Disneyland Paris.


Railway rod end investigation.


Pinned joints on the London Eye dummy pods.


Pinned hold down connection for Indiana Jones's bi-plane at Tokyo DisneySea.




Consultancy Projects - Fatigue Analysis Of Welded structures



Finite element stress analysis.


Understand fatigue classification of welds.


Understand how to select appropriate stress from finite element model for fatigue assessment.


Software developed by MoreVision to take benefit from fatigue enhancement methods (like toe grinding, TIG dressing and stress relieving).


View fatigue classification directly on finite element model.


View damage directly on finite element model.


Export results to spreadsheet for detailed analysis and verification.


Fatigue assessment of rollercoasters.


Fatigue assessment of railway bodyshells and running gear.


Our Consultancy Projects - Random Vibration Analysis

Shock loads to meet IEC61373 (category 1 class A).


Vibration levels to meet IEC61373 (category 1 class A).


Finite element model.


Frequency assessment.


Calculation of Acceleration Spectral Densities (ASD)


Bolt assessment.


Eurocode 3 fatigue assessment.



View fatigue classification directly on finite element model.
Shake table testing and analysis verification.
Related Consultancy Work

Strength of composite railway vehicle partitions.


Testing of composite panels (see video).


Tram way composite floor study.


Composite panel construction for toilet module.


Dynamic analysis of composite structure.


Rod end investigation.


Thread SCF study


Key slot fatigue study