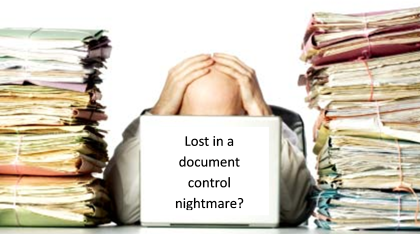 Document control is a key issue for engineers but it can become an administrative nightmare. Here at ExcelCalcs we have developed many tools to control the calculations we distribute and as a member you have access to all these tools.
| | |
| --- | --- |
| Problem | ExcelCalcs Document Control Solution |
| I downloaded a calculation once now I can't find it. | Simply select My Downloads. |
| What calculations I previously used have been updated? | Simply select My Updates. |
| If it has been updated since I used it what has changed and is it significant? | Just check the comments on the calculation download page for author's notes on changes. |
| I need to be kept automatically informed by email if a calculation is updated. | On the calculation download page select "Click button to be emailed about new comments".They can be stopped by returning to the page and select "Click button to stop emails about new comments" |
| I don't want to be emailed but I would like to find calculations quickly. | On the calculation download pageselect "add to Favourite". |
Good document control relies on discipline on the part of our authors but they can rely on the full support of our administrators to guide and help them (after all authors are our very favourite kind of member). This is we ask authors to do:
Log into the ExcelCalcs website
Select "My Uploads' to display everything you have uploaded.
Select the calculation you would like to update.
You'll then see the "Update Submission" link; click on this to show a new upload page.
Now use the 'browse' button to select the updated calculation to upload.
You may wish to update the file description. This is written in HTML. If you are unfamiliar with HTML please just email us the change and we'll do it for you.
Raise the file version (e.g. if your file is currently version 1.3 and you have only made a small change raise it to version 1.4; If it is a major update then you may wish to raise it to version 2.0).
Now click on the 'Submit File' button. Remember your old calculation will be over written.
You can now view your updated calculation page.
Please click on the 'Version History' button and post to say that your calculation has been updated to the new version and say why it has been updated. This will be automatically emailed everyone who has 'subscribed' to your calculation. It is the best way of ensuring that everyone is working with the latest version of your work. You can see a good example here which shows you what we are trying to achieve.
At ExcelCalcs users post excellent calculations covering a myriad of topics. We offer
guidance to encourage good quality uploads
and uploads are reviewed within a few days. However the bottom line is that there is
no warranty on downloads
. So when searching calculations look out for:
High download count.
Good ratings.
Positive comments.
Downloads that are well supported in the forum link.
Downloads with validation notes.
Upload date – older files with positive comments are more trustworthy than newer files with negative comments.
Good authors – Featured authors, authors with many uploads, authors with a record of supporting version histories of their calculations.
ExcelCalcs provides user tools to help keep track of both their downloads and uploads to help control the quality of calculations on the site. Useful Links Under Member Login:
My Downloads - What have I downloaded? When it was downloaded?
My Updates - Has it been updated? Why was it updated? – view the 'Forum Link' on each download page.
My Uploads - Control any revisions to your uploads.
  Your User Menu - the user menu explained in this video. How to check your XLC subscription and get your XLC release code. Check all your downloads and check for updated calculations. Uploading documents and version control. Updating your email address, username, avatar and other details. ExcelCalcs wants you to:
Rate your downloads.
Comment on your downloads – endorse and verify calculations when you can.
Discuss any issues you have with the author 'Forum Link' on each download page.
Collaborate with other users to improve downloads.