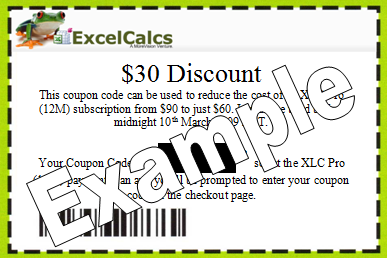 Our $30 coupon code will reduce the cost of an XLC Pro (12M) subscription from $90 to just $60. It has been sent to all our newsletter subscribers. You can use the discount yourself or send it to an unlimited number of friends. This offer closes at midnight 10th March 2009 EDT - so don't hang around.

Coupon Code FAQ's
"How do I use the coupon code?" - Just select the XLC Pro (12M) payment plan and you'll be prompted to enter your coupon code on the checkout page. You will see the cost reduce to $60 before you are sent to the Paypal site.

"So I can use the discount code and anyone else can too?" - YES. We believe in a virtuous circle of more members, more uploads and better service. Make yourself popular and forward this to friends and colleagues.
---
Have Your Say Please Respond to Our Survey - We want to know what you use to make calculations and how often you make them. We are very grateful for your honest opinions.
---
Repository News - Look out for the new zooming previews on the following repository items. It is easier than ever to decide if a calculation is worth downloading. We'll be rolling this out across the whole repository over the coming months.
JohnDoyle 

SageMath Note Book
This free open source resource offers you the power of a full symbolic maths package like Maple, Mathematica, Matlab, and Magma (which cost $1000 - $2000). The browser text interface makes it easy to copy and paste into your Excel worksheets. I barely scratch the surface in terms of its power but I was pretty much blown away by it!
jwt

Shear Lug Design.xls
Design of shear lugs for column base plates. The design is base...
John Doyle writes "I am well impressed with your submission – maybe one of the best we have received. It's very well set out and easy to follow. I know that you already support us with an XLC Pro (12M) subscription but I have extended your expiry date by six months to express our thanks for your debut upload. Will this be the first of many? Thank you Jim."
Jay


Band Brake Check
Checks band brake forces and stresses according to recognised fo...
John Doyle writes "Thank you for your debut calculation Jay. I have rewarded you with an XLC Pro (3M) subscription. I found a couple of links to other sites that helped me follow the calculation Roymech and DANotes."