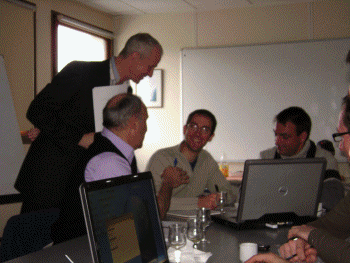 Volvo Training - I was delighted to deliver the 'Design of Construction Equipment' course in the beautiful town of Belley in the French Alps last week. Twelve engineers from Volvo travelled from France, Poland, Germany and India to attend the 5 day course. Volvo had selected a number of ExcelCalcs training modules plus asked me to write some specifically for Volvo. I was pleased to receive some very positive feedback for both the training and XLC. The attendees expressed how XLC spreadsheets helped to explain the physical principles without getting bogged down by the maths. Understanding is gained (and retained) by observing the effect of changing input parameters. Five days teaching is exhausting but it's good to get out and meet some real people (my wife tells me I need to 'get a life' when she sees me sat alone in front of my computer for days on end).
Thankfully it was not all work - we indulged in afternoon tea with scones (made by my mum) and to further international relations we partook of fine British ales. In return I was wined and dined as only the French know how and I even got to taste some sweets from India. Volvo have requested more training for other Volvo sites and they expressed their willingness to support the ExcelCalcs website. Please contact me if your organisation would like to support us too.
Physicists Join ExcelCalcs - Prior to travelling to France I delivered the "Engineering Calculations and the Great Physics Rip-off" talk at Glasgow University. Before the talk I was given a tour of the Physics department and I was genuinely amazed to see all the research work going on there. In particular the particle physics group showed how they were developing detectors for use with the CERN particle accelerators. One application of this technology was working towards replacing damaged retinas in human eyes. A very old friend of mine suffers from retinitis pigmentosa and this technology could potentially restore his sight within his lifetime.
One part of my talk complains that Physicists havn't really done much for engineers since Newton and Hooke in the 1600's so seeing all their excellent research really threw me off my stride. Thankfully they appreciated that the accusation was light hearted (I don't think I could have handled a physicists' angry lynching mob). I hope to receive some contributions from physicists on the ExcelCalcs site in the future.
If anyone would like to invite me to talk about the ExcelCalcs website I am generally very happy to do so - it all helps to get the site better known. I'll usually adapt my talk to a given audience whether students (schools and universities) or engineers in the workplace.
Repository News -
It has been a few weeks since I sent out a Newsletter so there have been some useful additions and updates to the repository. Thanks to all those who contributed, particularly ExcelCalcs User
linkwray60 who posted his first two uploads earlier this week.