Engineering training - "I run a team of engineers and whilst there are plenty of soft options for training expounding the latest management techniques there is precious little to develop the engineering skills of my team". This is a familiar story we hear from clients of our training services. Our Excel design guides provide interactive charts to demonstrate the underlying science they make a fast track for learning and become invaluable resources for later use. We demonstrate the effectiveness of training by surveying confidence levels before and after the course. We split the class into low ability, average ability and high ability attendees and all levels show a marked increase in confidence levels.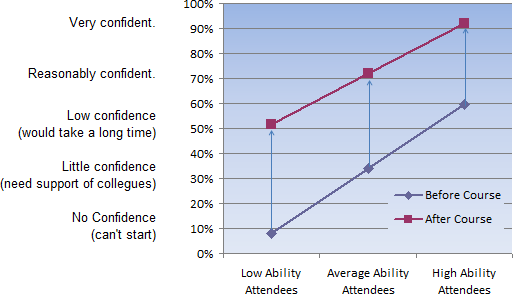 Low ability attendees start without any hope of starting a problem but show the greatest increase in confidence. Average ability attendees start being able to tackle problems only with the support of colleagues but leave tackling problems on their own. Even high ability attendees start with a reasonable level of confidence but leave being able to solve problems much more confdence and speed thanks to their new spreadsheet guides.
Weld Strength (½ day)

 Start with simplest weld types. Understand basic calculation principles and allowable stress. Use traditional hand calculation methods.
 Guide for weld sizing
 Guide to determine weld ultimate strength
 Weld strength problems.

Fracture Surfaces (½ day)

 Reading a fracture surface: Ductile and brittle? High load or low load? Static strength or fatigue strength? Type of load application?
 Guide for principle stresses, maximum shear stress, stress intensity, Mohr's circle & failure criteria for ductile and brittle materials.
  Examining Fracture surfaces

Bolts (½ day)

 Why bolt pretension is so important. How the tightening method controls preload. What can go wrong with a bolted joint? Understanding bolted joint diagrams. Differences bolting steel and aluminium. Preload fatigue benefits. Special bolting products.
 Guide to bolted joints design.
 Guide assessment of bolt groups.
 Bolt quiz.

Safe Life Fatigue (½ day)

 Stress Life Fatigue calculations for un-welded items. Damage tolerant or Safe Life? Size Factor, Surface finish, Surface finish factor, Probability of survival factor, Miscellaneous Factor, Stress concentration factor, Notch sensitivity, Mean Stress, residual stress. Assumptions, limitations and advantages.
 Guide for constructing a safe life SN diagram.
 Guides for stress concentration factors.
  Safe life fatigue quiz
 Fracture mechanics the life cycle of a crack. Fast fracture or grow? Assumptions, limitations and advantages.
 Guide for fracture mechanics calculations.

Dynamics (½ day)

 Design for vibration, impact and crashworthiness.
 Guide for generalised motion.
 Guide for forced vibration.

Fatigue of Welds (½ day)

 Putting the analysis the context of the whole engineering process. Stress concentration, materials flaws and residual stresses. Assumptions, limitations and advantages.
  Weld stress concentration quiz.
 Guide for Fatigue calculations.
  Fatigue calculation quiz.
 Metallurgical assessment of weld fatigue.
 Guide for comparison of international codes EC3, BS7608, AISC, AWS and AASHTO.
 Fatigue Enhancement.

Links and Mechanisms (½ day)

 Geometry and force solutions.
 Guide for pins and lugs.
 Guide for excavator design.

Beams and Frames (½ day)

 Calculating bending stress and deflections.
 Guide for section property calculations.
 Guide for beam calculations.
 Guide for torsion calculations.
 Guide for frame calculations.

Miscellaneous Topics (½ day)

 Strain gauges test demonstration.
 Guide for wear calculations.
 Guide for composite beams and sheets.
 Guide for helical spring design.
 Guide for interference fits.
 Guide for tension connections

Excel Skills for Engineers
Throughout the course you'll be exposed to XLC, the good calculations principles and Excel tricks and tips. 

Course Customisation: Customise training for railway vehicles, construction equipment, oil and gas plant, cranes, mining equipment and theme parks.

Course Duration: Select your own training modulues (typically 2 to 5 days).

Course size: 5 to 50 attendees.

Course Location: In house training delivered at any location.

Contact John Doyle to discuss your requirments.
Apologies to trial users in December
Many trial users could not install their XLC trial in December this was due to an oversight on our part. Anyone can subscribe to our trial plan as many times as they wish so please feel free to download XLC again to find out just what you are missing out on.
Follow us on Twitter or LinkedIn
Follow us on twitter or join our Linked In Group to keep up to date with site developments as they happen.
Site Improvements
Those of you returning to the site will notice quite a few improvements including:
• The addition of social network referral buttons allows you to recommend a page to your friends on Twitter, LinkedIn, Facebook and Google+. We would be grateful if you would use these.
• The site has been optimised for viewing on mobile devices.
Repository News
Uploads seem a little sluggish in January. Remember we offer free subscriptions for any contributions.