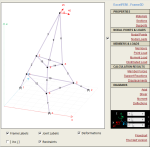 Congratulations to ExcelCalcs author Turan Babacan for his amazing Excel worksheet for 3D beam analysis. Turan has already uploaded many impressive worksheets but his latest is a remarkable showcase of his Excel mastery. The worksheet is perfectly executed making the worksheet extremely user friendly and in my opinion much easier to use than most commercially available 3D beam analysis software. The worksheet has been benchmarked against the ANSYS finite element system showing just a 0.05% difference in results. There is a preview of the worksheet and a video to accompany the download.
Invite a friend to subscribe at ExcelCalcs and receive a free 3 month extension to your own subscription! All you have to do is to ask them to enter your email address in response to the registration question "How did you hear about ExcelCalcs?" We'll find your email address in the user database and extend your subscription automatically. Inviting just four friends over the year secures your own subscription and helps us create a virtuous circle of more users and more downloads.
Repository news
They might also be interested in these other downloads which have been uploaded since our last newsletter. To download you'll need a
site subscription
costing $90 for professional users or just $45 for teachers and students.