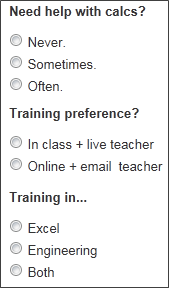 At ExcelCalcs we empower engineers by offering solutions for calculation problems. This is all well and good if you are familiar with the problem but sometimes we need a little more help on the subject. We are trying to develop our ideas for engineering training and we would appreciate it if you would complete our on-line survey. All you have to do is log into the site and answer three simple questions - just three simple mouse clicks that's all.
Whilst you are there you could take a look at the new calculations featured in the section below. Thank you to all contributors. Have you ever though about uploading one of your own calculations? We want to offer calculations on all subjects. Free XLC Pro Awards are awarded at the discretion of our site administrators as our way of thanking you for your contribution.
Free 3 Month XLC Pro Subscription for any calculation of interest to the ExcelCalcs community. We welcome calculations on any subject at all. You may already have a suitable calculation stored on your hard drive?
Free 12 Month XLC Pro Subscription for any calculation following the principles set out in the ExcelCalcs Good Calculations Guide. We appreciate it is not always possible to follow the guide explicitly but use of the guide helps ensure consistency and quality of calculations.
Free Lifetime XLC Pro Subscription it quickly becomes clear that some authors are enthusiastic supporters of the site donating a number of good well supported calculations in the ExcelCalcs Repository of Excel Solutions. We are very pleased to offer these users free lifetime XLC Pro subscriptions.
Repository News
Sumnerdave updates his roof deck calculation correcting a the selfweight deflection and a couple of typos. More Turkish delight from Turan! His new calculation extends the functionality of a previous calculation to allow for 4 separate soil layers. Be aware that this file only works in Excel 2010 due to limitations of matrix functions in Excel 2003.HKE makes his debut calculation for stress in a conical section of a pressure vessel. JohnDoyle updates a stress concentration factor calculation. dfh_id_au also makes his debut calculation to determine which order polynomial best fits the data and to calculate the coefficients for that polynomial.