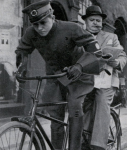 We are very pleased with what we have achieved here at ExcelCalcs but we have ambitious plans to move the site up a quantum level. Currently we are not limited by ideas for innovation but we are limited by resource. We always have been (and always will be) very happy to open the site to students for free but the ratio of paid XLC Pro members to free XLC Ed members suggests the site is populated by young eager cash strapped students even though email addresses show they belong to large multinational engineering organisations! Currently only 1 in ten people renewing a free XLC Ed subscriptions opt for a paid XLC Pro subscription. Now there is not much we can do about this apart from appealing to your sense of fair play. So we have launched our 'Pull Your Weight' campaign to prompt commercial users to take an XLC Pro subscription and help us realise our development ambitions for the site.
Remember the XLC Pro(12M) $30 discount coupon sent to newsletter subscribers is still working until 10th March 2009 EST so now is your last chance to take advantage of it. If you have any influence with your employers please encourage then to buy a Corporate Coupon so that they can benefit from our volume discount scheme. There that's it the hard sell done, lets move on to some of the interesting developments on the site.
Looking for Beta testers for the new release of XLC
Soon we'll all be enjoying a fully automatic version of XLC, equations automatically redraw when a cell formula changes, automatic naming of variable without the use of the name button, automatic updating of equations when you rename a cell… All this functionality makes it much faster to produce calculations; it's a big improvement which has involved a lot of programming effort. Before I roll it out to everyone I would be please to hear from any users who will take it for a spin and report any unusual behaviour before it is released on the site. Please email me.
I have delayed the introduction of the previously announced equation 'speed input' due to a resource issue (made obvious by the article above). This functionality will deliver more productivity benefits to the user kick off a whole new arm on the website, but we'll just have to wait a bit longer for it.
Site Survey
Login and respond to the latest site survey we hope to use the results to direct the development effort and measure user satisfaction.
ExcelCalcs TV Interview with Alex Tomanovich
Alex talks to John Doyle about his spreadsheets, why he chooses Excel and the approach he takes when setting out a problem. He talks about his employer, Flour, and how he decides what subjects to cover. We discuss the ExcelCalcs repository, its content and the response from users. He tells me why he shares his calculations. Finally I get a chance to thank him on the behalf of all users who have benefited from his talent and his substantial body of work.
Repository News
ExcelCalcs user GFT spots an error in one of the master's spreadsheets! I think this shows how sharing calculation at ExcelCalcs and user feedback brings about improvements for everyone. Please keep uploading and keep commenting.