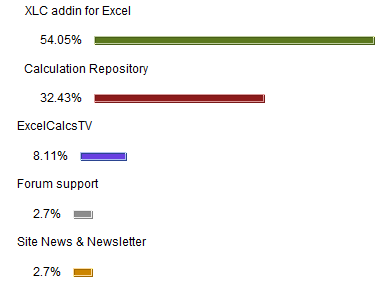 Your Favourite Feature? The results of the latest site survey are out and they tell us that you like the calculation repository but your favourite feature is the XLC add-in. A similar site survey in January 2008 shows that XLC was as popular as the repository. We read this as a user endorsement of the latest features we have introduced to XLC. New features included in the latest version are equations update automatically, automatic equation naming, improved Greek character functionality, redraw with or without equation numbering, new Email utility for speedy repository uploads, improved colour matching in Excel 2007 and new ExcelCalcs web search utility to get the best technical content on the web directly from Excel.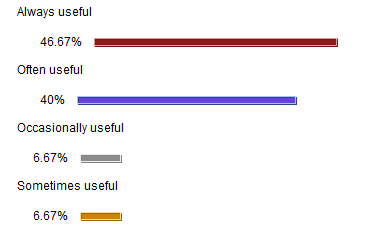 How Useful Do You Say We Are? We were thrilled to learn that almost 90% of users find ExcelCalcs "always useful" or "often useful". This is a terrific endorsement of what we are trying to achieve here at ExcelCalcs and it is good news for anybody who prepares calculations. Invite your friends and colleagues to join us – the more member we have the more we have to share with our members.

Commercial users please consider purchasing one of our paid subscriptions to remove "non-commercial user" watermarks. This month 14% of users renewing their subscriptions selected a paid XLC Pro subscription. This is a 4% improvement on last months figures but we would like to see this grow further.
Measure Your ExcelCalcs Productivity Gain - Please take part in our latest site survey which will help us measure productivity gains for ExcelCalcs users. It not a precise science but we are very interested in your answers. It only takes seconds to complete so why not do it now?
ExcelCalcs Verses Mathcad - In these recessionary times isn't it worth considering the cost benefit of your software licences?
Mathcad

ExcelCalcs

Mathcad 14.0 Single User - Price: $1,195.00

Annual maintenance contract, approximately $240 USD.

Mathcad 14.0 Add On Collection $495.00

Civil Engineering Library $245.00

Electrical Engineering Library $245.00

Mechanical Engineering Library $245.00

Prerequisite you need Excel.

Educational version Free.

Commercial version $90 per year.

Access to all areas of repository.
Mathcad offer 5 benefits over Excel and I'm afraid I contest almost all of them.
| | |
| --- | --- |
| 1) Clarity of notation (readability) |  I DISAGREE - XLC which produces mathematical equations from cell formula. |
| 2) Clarity of dependencies (verification) |  I DISAGREE - again XLC covers this one and what could be better than Excel's Auditing tools? |
| 3) Unit analysis (error checking) |  I PARTIALLY AGREE - OK I'll give them this one but when was the last time you added 5 seconds to 10 feet and expected to get a meaningful answer? |
| 4) Breadth of calculation tools (completeness) |  I DISAGREE - I have yet to find problem that Excel cannot readily solve. There is an abundance of Excel solved problems and myriad of add-ins for additional mathematical functions. |
| 5) Engineering-appropriate graphs, image analysis, matrix analysis, and data support. |  I DISAGREE the charts in Excel are easily customised, Excel makes a fine job of matrix manipulations and with regard to data support what software cannot read an excel spreadsheet? Databases, CAD software and even Mathcad reads and writes in Excel format. |
The ubiquitous use of excel is the main reason we should use it. You can send your calculation to anyone confident that it will easily understood and reused. Excel is the common currency for mathematical data read by engineers, accountants, teachers and student. ExcelCalcs just makes it even better for people who do calculations.
Repository News
There have been a number of repository uploads since my last newsletter.