Yakov Polyakov is another 'spreadsheet king' and an ExcelCalcs User. He is very worthy of our praise and has helped me out of a few tight spots in my time with his many superb structural engineering spreadsheets - you'll find a link to his site here. I am just about to set off for my summer holiday and don't feel up to heavy Excel calculations - so I have been playing with Excel using a couple of Yakov's recent uploads:

Nice touch with the
animated frogs
Yakov! It's a computer test for 1st graders in China, see if you are smart enough to qualify! - (I am afraid that I was not - to add insult to injury my daughter managed to do it in under a minute - doh!).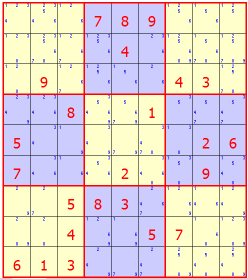 Excel based popular
Sudoku puzzle
. It creates puzzles, provides helpful notations and hints when you stuck. Lots of fun for the trap-like minds, enjoy.
Don't forget to thank Yakov for his deliberations in the forum.