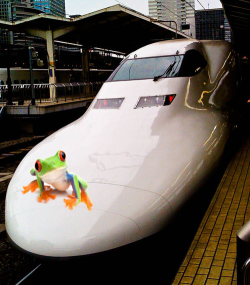 Hitachi have recently been awarded the largest ever UK rolling stock order and they'll be bringing their Shinkansen bullet train technology to Europe. In August ExcelCalcs braved the stifling Japanese heat to deliver their 'Fatigue of Welded Structures' course to Hitachi bogie and bodyshell design teams in Kasado.
The course was customised for Hitachi to demonstrate European fatigue calculation methods which will help them address European railway standards. The Hitachi team have extensive experience in new build design but limited knowledge of in-service fatigue problems. Our case studies showed how design intentions can fall short of what is required and give rise to in-service fatigue cracking problems. ExcelCalcs demonstrated methods for maintaining a safe service despite the presence of fatigue cracks and how to introduce long term solutions to provide an unmonitored safe life for the future. We were given a tour of their impressive production facility which included  a demonstration of their friction stir welding technology used to great effect on their aluminium bodyshells. We are looking forward to working with them in the future.
Repository News
Again it has been a while since my last newsletter so there is a very long list of new calculations to run through. You'll need to be an XLC Pro subscriber to download but remember we offer free subscriptions to contributers.