I have been chasing up feedback from new users signing up to XLC Pro accounts in the last month. I am delighted with their positive feedback.
"I started using XLC but I am now insisting that my whole team use the add-in ."

"It is a great tool for validation and presentation of engineering calculations."

"I am generally very sceptical about using other people's spreadsheets but I am much happier using an XLC spreadsheet where I can read the calculation easily."

"XLC is worth the $90 subscription alone - the repository is a welcome bonus."

"All engineers should be using XLC."

"XLC is working great - love the site."
You may have noticed the recent addition of Twitter, Facebook, Linkedin and Google+ buttons. Give them a click for me when you are next up there.
ExcelCalcs Trailblazers
  ExcelCalcs benefits for large organisations:


Calculation Audit Trails and Traceability.
Calculation Validation Tools.
Enhanced Presentation.
Documentation Standards
Knowledge Sharing
Best Practice Adoption
We are making many more volume sales to larger organisations thanks to the enthusiasm of individual subscribers who bring us in to large organisations. ExcelCalcs subscriptions have been readily taken up by individuals but take up from large organisations has been much slower due to their inertia to change.  Here are some of the techniques that have been successful in creating a grassroots movement to bring in ExcelCalcs into large organisations.
Benchmarking - In times of austerity some organisations need to measure a benefit to justify a cost. ExcelCalcs in its own trials has shown an average 23% productivity benefit per user. Sign up some test users and follow our approach to show the quantitative benefit relating directly to your own organisation. Your management team will be grateful when they scale up the benefit and roll out ExcelCalcs over the whole organisation.
Hold an ExcelCalcs Event –Everyone is so busy to find time to evaluate new ideas but attending an ExcelCalcs training Seminar makes it easy to set aside time. Training can be customised to the needs of the organisation and can be from 1 to 5 days in duration.
Showcase an ExcelCalcs Project – Ask us to take on some custom development work or solve a problem you are currently working on. When ExcelCalcs is seen to provide solutions for your own problems the enthusiasm to bring it into the organisation is dramatically increased.
Flexible Payment Methods – Whilst our PayPal payment process is full automated and ideal for individuals requiring immediate access conventional invoicing and bank wire transfer methods are generally preferred by larger organisations. We are happy to oblige for any payment over $300.
Volume Discount – The more subscriptions you purchase at one time the cheaper the unit cost.
Corporate coupons – we release corporate coupons to bypass the ExcelCalcs checkout. In terms of administration this is much easier for large organisations to handle and more cost effective that processing many individual subscriptions.
Working with IT Providers – Many large organisers outsource their IT provision to companies like Insight and CSC. We are very happy to work with them in bringing our engineering resources to large consumers.
ExcelCalcs Introduce New Course for Rail Industry Engineers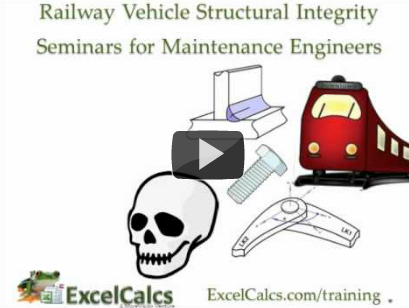 Repository News