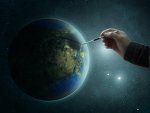 Where in the world are you? - Log in and we'll use your hostIP information to place you on a Google Map. Select 'User Geography' from the 'Main Menu' to see a map of users and visitors. One of the most rewarding aspects of running the site is meeting people from all over the world with a shared interest in calculations and this new feature illustrates (and I know this sounds 'corny') the power of the internet.

Payment for Calculations? - ExcelCalcs user Mark_Rawlings writes in the forum: "Have you ever thought about allowing users to be paid for uploading calculations? There may be a lot of 'time poor' engineers out there who would like to offload some calculations and be willing to pay other users to do them. The site seems quite altruistically motivated, every thing is given away for free, but with financial incentives you may find that the userbase increases dramatically. The 'time poor' engineer gets his problems solved, someone gets paid for uploading the calculation and the quantity and quality of repository calculations increases. I have no idea how you could introduce this but it may be the start of a virtuous circle." Mark's comment has really got me thinking - maybe a commercial element to the site would catalyse activities. It is possible to include a paypal reverse auction feature on the site but I would like to hear user's opinions first to see if there is a demand for such a feature. Please add your comments to any of the points below in the Forum.
Are there any 'time poor' engineers who would be prepared to pay for calculations they specify?
Resources are scarse when companies are busy this form of out sourcing could help solve your problems fast and effectively. You could set a budget and select candidates based upon their existing Repository Contributions ratings and reviews.
Would you be happy to include the finished calculation in the Repository for the benefit of all?
Users could quote for calculations - one candidate would be selected and paid?
Excelcalcs could act as arbitrator in the event of disputes.
Is this a good way forward for ExcelCalcs?

Vessel Volume Calculations - Another debut calculation arrives this time from ExcelCalcs user Quintaros. His upload calculates the volume in a partially filled horizontal cylindrical vessel with either hemispherical or elliptical heads. Thank you Quintaros! Download, rate and review the calculation.