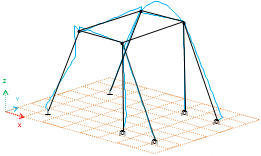 ExcelFEM will solve any beam problem or any frame problem and is possibly the most versatile and useful spreadsheet for engineers on the whole website. It is the work of Excel guru Turan Babacan. The menu driven spreadsheet is extremely simple to use. Start by positioning points in space (nodes) and then define beams (elements) between a start node and an end node. Add supports and load up using any combination of point loads and moments. Excel will calculate the resulting support loads, member loads and deflections instantly and display them on a 3D Chart.
ExcelFEM comes in Excel specific versions because Excel 2003 has limitations in terms of its sheet size and matrix inversion function. Excel 2007 and Excel 2010 can handle much larger problems than Excel 2003.
ExcelFEM xlsb version (for Excel 2007 & Excel 2010). File version 1.0.
ExcelFEM xls version for Excel 2003. File version 1.5.
For simple 2D problems the following versions can be used:
ExcelFEM 2D xlsb version for Excel 2007 & Excel 2010. File version 1.0.
ExcelFEM 2D xls version for Excel 2003. File version 1.2.
"Without doubt this is the best beam FE software I have ever used and to think it is all done in Excel without VBA is amazing. The design and layout of the sheet itself shows all the signs of an Excel Genius. Well done Turan." John Doyle ExcelCalcs Creator.
Subscription Offers
For individuals:  An XLC Pro (12M) subscription gives you the professional version of our XLC software and access to our entire repository of solved problems. It normally costs $90 but if you sign up before 22nd July 2011 using the "YWJJMD" coupon code at the checkout you'll receive a 15% discount. Use the coupon now.
Please forward this email to friends so they can benefit too.
For Organisations: Larger discounts are available for purchasing multiple subscriptions (30% discount for 10 users and 44% discount for 50 users). Alternatively subscriptions are totally free for purchasers of our on-site engineering training.
Consultancy service
Going beyond the Excel we also offer finite element analysis using ANSYS and strain gauge testing services. We provide an efficient and cost effective service to develop product designs and assess equipment under extreme conditions. Review case studies or contact ExcelCalcs by email or phone US +1 617 5008224 or EU +44 113 8152220. All new clients will receive free XLC Pro subscriptions by way of thanks.
Repository News
Here are all the new calculations uploaded since the last newsletter. Alex Tomanovich has produced a brand new spreadsheet and kunjmech2004 uploads two calculations in one day. We are very grateful for all your calculations so keep them coming everyone.